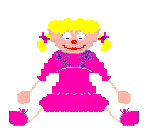 Hi Pixie lovers !!! Welcome to my Trivia Quiz !!!
Tickle my tummy to play the quiz. First time users
will need to Register to obtain a UserId and Password.
Just click on Register now !! and follow the destructions!!
I've set the time out for each question to 30 seconds.
Bibbin found the default 15 a bit too difficult !!!
He's cute, but a bit slow, like this Quiz !!!!! Enjoy !!!!!